Neuromuscular re-education is the manual manipulation of joints and muscles to bring about proper movement and function. After an injury or illness has affected a part of the body, its ability to move normally may have been altered. Inflammation, scar tissue and new bone or tissue growth may have caused a joint and the muscles that support it, to conform to new types of movement. The longer this goes untreated, the harder it will be to regain natural function of the joint. Re-training the muscles to follow their original patterns of movement can correct these problems and help a patient regain improved range of motion and flexibility.
Tools and Techniques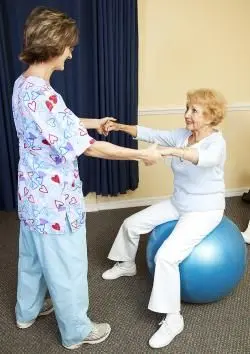 Neuromuscular re-education uses a variety of tools and techniques to re-train injured muscles and joints. Braces, taping and wrapping joints during controlled exercises and movement patterns help to stabilize and support the joint. When a joint is properly stabilized through taping or bracing, it will move in a specific way. With each session of bracing and exercising, the joint will begin to move closer and closer to its natural pattern. Over time, its natural movement will be restored and the supporting muscle and connective tissue will be strong enough to maintain the original pattern.
Massage therapy and one on one assistance will also help strengthen the tissues that support the injured area. Massage therapy increases circulation bringing freshly oxygenated blood to the area. Oxygen is needed for damaged tissues to heal. As the tissues begin to mend, one on one assistance allows the patient the opportunity to move the injured joint without force or applying any weight that may cause discomfort.
How It Works
By slowly moving the injured area, one joint at a time, the original pattern of movement is re-established. Using small steps to regain full range of motion strengthens every section of the damaged area, allowing it to heal fully and completely without pain and discomfort. Trying to force a joint of body part to return to its original pattern of movement without sufficient preparation can lead to inflammation and more damage.
Stabilizing the area and using individual movements gives the muscles a chance to re-learn delicate movements that may otherwise be forgotten or overlooked. Taking these small steps toward full mobility, allows the body to lay the foundation for stronger, more resilient muscles and joints. Taking the time to heal naturally and regain proper body dynamics will also help to prevent re-injury in the future.
Visit Our Dallas Chiropractor Today!
Our trained professionals will help you overcome the obstacles you face when it comes to proper body movement and flexibility. Once we begin working with you, you will see a noticeable improvement when it comes to both mobility and comfort.
For more information about Neuromuscular Re-education or to schedule an appointment, call us today at 972-392-9402!